About BANJO
Corporate Philosophy
Elevate flavor, maximize enjoyment
Banjo Foods was established in 1952 in Mishima, on the Izu Peninsula of Shizuoka. From the outset, our company slogan has been "Elevate flavor, maximise enjoyment" through the development and production of predominantly wasabi-based condiments and seasonings. We develop new products according to trends in food and cuisine, with the aim of bringing happiness to our customers by supplying Mother Nature's gifts to the table at home.
Our product line started in the 1950s with shelf-stable wasabi powder, ('Kona Wasabi') and in the 1970s, due to the enhancement of the fresh fish departments in supermarkets, it expanded to grated wasabi sachets and grated ginger sachets for sashimi, vinegared miso mixed with mustard ('Karashi Sumiso'), and sauce for grilled eel ('Kabayaki no Tare').
In the 1990s it became obvious that menus both in home kitchens and in restaurants were becoming more diverse, and this led to the development of salad dressings, as well as sauces. By ensuring its product range is in tune with the needs and trends of each era, Banjo has been continually contributing to the development of recipes in hotels and restaurants, as well as in the home.
With the more recent global popularity of Japanese cuisine, Banjo started to export wasabi products to overseas markets in 2011, and encouraged new ideas for recipes in these markets. As we continue to develop products in synergy with a variety of lifestyles that span borders and generations, we hope to continue to promote our philosophy to the world, namely elevating flavor and maximizing enjoyment!
Natural ingredients combined with a creative manufacturing process
In Japanese culture, the seasons dictate what food we serve on our plates. The key ingredients of our products are sourced from nature, and creatively manufactured, with the result that our condiments and seasonings reflect the flavors of the season. From the very beginning, Banjo has been researching and developing new products, using our knowledge and techniques to incorporate natural ingredients into our products, in order to deliver an increasingly tasty culinary experience for our customers.
Wasabi is our main product - it is one of the unique Japanese condiments which is characterized by its interesting flavor and pungency. Among our wasabi products we offer a premium product, Hon Wasabi, which is made with our top quality Japanese native wasabi from the Izu Peninsula.
Origin of the trademark, "Maruchon"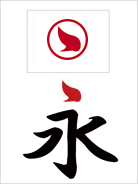 The Japanese traditional calligraphy method "eiji-happou" defines that "永" (a Chinese character meaning "eternity") has 8 basic brush strokes.
The first stroke "ゝ" (CHON) symbolizes the beginning of the universe. By adopting "CHON" as our corporate symbol, we aim to contribute to constantly changing gastronomic culture, with our original purpose always in mind.
Secure and safe product development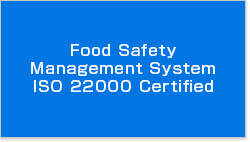 In order to build trust and to achieve customer satisfaction, we have established our own policy for food safety, and in October 2007 we were accredited in the Food Safety Management System according to the HACCP method (ISO22000).
We continue our unique product development utilizing our imagination, creativity, know-how and techniques learned through our varied experiences.
Food safety policy

- Product procurement meeting customer demands.
- Assuring food safety through information transparency both internally and externally.
- Improvement of food safety knowledge and instillation of legal compliance among employees.
- Goal achievement in the most efficient way by promoting transparency initiatives.
Environmental conservation approach
In order to achieve environmental conservation in the neighboring region, we have formulated our own policy of self-regulation and management. We attempt to prevent environmental pollution by constantly reviewing and improving the effectiveness of our policy.
Environmental policy

- Reduction of waste products, promoting waste separation and recycling.
- Constant improvement, prevention of environmental pollution.
- Improvement of productive efficiency and yield rate, cost-cutting by energy saving.
- Regulatory compliance.
- Establishment of the code of conduct for employees.
- Disclosure of the environmental policy.